Judith Fisher Centre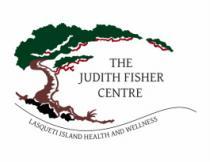 The Judith Fisher Centre provides health and wellness services to Lasqueti, and offers comfortable spaces for the community to utilize.
---
COVID-19 update (updated 10/8/2020): The JFC is OPEN for the weekly nursing clinic, and use by other health professionals, following current provincial guidelines. When possible, call Dianne at 250-240-5712 for an appointment, to reduce the number of people in the waiting room. Drop-ins still OK when you're not able to call ahead. Please check out our COVID Clinic Guidelines before you come, and bring your mask.
The meeting room is also available by appointment to small groups (maximum of 8) under special guidelines.
---
NURSE CLINIC
Regular nurse clinics with Dianne McClure, RN, happen every Thursday from 11:00 AM to 3:30 PM, subject to occasional change. Check the Community Calendar for occasional nurse clinic cancellations. Drop-ins are welcome during these hours.
M.D. CLINIC
The JFC also hosts quarterly doctor clinics with Dr. Larry McClure, MD, of the Parksville Medical Clinic. Dates for these clinics are announced via the Lasqueti email list.
RESPITE SUITE
When the Centre was built, we included a fully accessible self-contained suite for the purpose of temporarily housing a community member needing to rest and recover due to surgery, accident, or illness. The respite suite is available by weekly rental. To find out more, talk to Robin at the JFC, or email healthcentre [at] lasqueti [dot] ca.
TELEHEALTH
We are lucky to have a Telehealth machine in the JFC, which can allow Lasquetians to have remote consultations with specialists without leaving the island, using a secure and private internet-based video connection. Talk to your doctor about whether your appointment is appropriate for Telehealth, and contact healthcentre [at] lasqueti [dot] ca to book use of the Telehealth room.
SPECIAL EVENTS
Past special events at the JFC have included hearing testing, foot-care clinics, preschool dental hygienist, Wellness Fair for local practitioners and services, mental health groups, and parents & tots get-togethers. Special events are usually announced via the Lasqueti Email List.
MEETING ROOMS
Community groups and all Lasquetians are invited to reserve the JFC meeting room or other spaces for meetings or activities, by emailing healthcentre [at] lasqueti [dot] ca.
TREATMENT ROOMS
Practitioners of health-related services can also reserve treatment rooms for their sessions (professional liability insurance is required). Contact Robin at healthcentre [at] lasqueti [dot] ca for details about reservations and fees for treatment rooms.
OPEN HOURS
The JFC is regularly open to the community on Tuesday afternoons from 12-4, and on Thursdays from 11-4. If you are making a special trip, please email or call ahead of time to confirm, as this is subject to occasional change. To meet with the administrator outside of these hours, please call or email for an appointment.
The JFC can be reached during open hours at (250) 333-8891. Voicemail will be returned on the next open day.
For more information email healthcentre [at] lasqueti [dot] ca, or visit our website:
For information about the Nurse's schedule at the Centre, please see:
The Judith Fisher Centre is the product of a long-term collaborative community project directed by Lasqueti's Last Resort Society