Argentine Ranch Vacation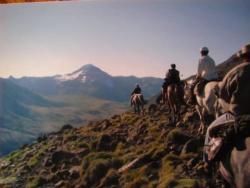 Product Summary:
10-days for two at remote, all-inclusive ranch
10 day stay for two at an all-inclusive remote Argentine ranch, accessible by horseback, world class fly fishing
ESTANCIA RANQUILCO is a family run cattle ranch and horseriding lodge in the northern Patagonian region of Argentina. This ultra remote ranch offers spectacular scenery along with a glimpse into the traditional gaucho culture. Imagine high dry rolling grasslands, a trout filled river cutting through volcanic canyons and the Andes mountains rising up just out the back door.
Here you can hike, ride, fly fish, bird watch, swim, take an overnight horse trip, watch the gauchos work the cattle or just relax with a good book. Accommodation, depending on availability, range anywhere from a Lasqueti style private cabin to a bedroom suite overlooking the river in the stone crafted main house. Home cooked meals (featuring organic meat and veggies from the garden) and those famous Argentine wines will be provided.
Enjoyment of horseback riding is an important aspect of this holiday, as access to the main part of the ranch requires a two and a half hour ride. The horses are steady and gentle, well acquainted with gringos of all levels of riding experience.
Value is $3000 per couple for ten days.
Price includes accommodation, all meals, and wine.
Starting bid $1000
www.ranquilco.com or call Annie Carrithers 250-333-8661